Meet Bella
Last May, Bella (pictured, far right) experienced a relapse of Rhabdomyosarcoma in her jaw muscle. Returning to treatment means spending more time a great distance away from home, but the YouCan Centre at Chris O'Brien Lifehouse ensures she can still have her family and friends close by.
"I'm in the hospital pretty much 2 out of every 3 weeks, so the YouCan Centre has meant my mum can stay here when I do, providing me the support I need as well as a beautiful place to go during the day to seek refuge from the monotony of the hospital room." says Bella.
The YouCan Centre at Chris O'Brien Lifehouse provides accommodation, entertainment and solace for our adolescent young adults during their time here.
"I've loved having friends come and hang out here, where we watch movies and play many board games - particularly Catan! What a privilege it is to have this amazing place to visit during my tough treatment regime, my dog Nelson thinks so too".
Bella's friends are going the distance and supporting Chris O'Brien Lifehouse for Bella this August. Their Go The Distance team, Team Going the Distance for Bella, is currently the top team on our leaderboard with over $21,000 raised!
We wish Bella all the best in her recovery and thank Team Bella for helping patients with cancer by going the distance this August.
Meet Harry
At 21, Harry's life was full of promise and potential. But a series of seizures changed everything. Here, Harry speaks to Callum McPherson, host of the Young Blood - Young Men's Mental Health podcast, about his brain cancer diagnosis and how he is making the most of every day.
Meet Kim
Earlier this year, Kim Sherwin had a run-in with cancer. "I was one of the lucky ones who had the surgery at lightning speed after something was found at my regular screening," Kim says. "I had the badness successfully removed from my breast, then zapped the heck out of my boob with five weeks of radiotherapy." The impact of Kim's journey has been quite profound on her. "I'm incredibly grateful for the amazing care and support I've received from the remarkable team at Chris O'Brien Lifehouse," she says. "I wanted to give back."

Kim lives close to the Camperdown centre, and each day of her five week radiotherapy treatment, she'd make the 5km round trip with her partner on foot. "Being able to walk there was important to both my mental and physical health, and something I was determined to do, come rain or shine," Kim says. "We'd often comment on how fortunate we were to be able to walk to my treatment at such an amazing facility. I'd overhear others at Chris O'Brien Lifehouse talk about coming across town on a couple of buses or even from regional areas. It's a tough enough journey, nevermind having to contend with a daily commute, reliant on public transport and staying in a hotel, away from home and family."

Kim has pushed herself to Go The Distance this year by cycling to different libraries far and wide across Sydney, so far raising an incredible amount of donations for her many rides. "Cancer isn't going to beat itself," Kim says. "Only we can help beat it, and support those going through what is a very unsettling time, in a high-quality care facility."
Kim has joined Go The Distance for a second year in 2023, and this year she is swimming the equivalent of a marathon! That's 42.125km, which is phenomenal. We can't wait to see Kim swim towards her goal, while helping patients with cancer and their families.
Meet Tim
This is Tim and nothing will stop him from Going The Distance for his daughter Erin. On Day 1 of the challenge, Tim was locked out of his garage and couldn't get to his bike due to a power outage. So, he crawled underneath the house, through cobwebs and dirt, and lifted himself up through the floorboards into the garage. Tim cycled 103km on Day 1.

"I thought about all of the setbacks that patients have and how they resolve to keep going, and I thought I can't let a little power outage stop me," he said.
His daughter Erin, 28, was diagnosed with breast cancer earlier this year. She has since had surgery and will start Chemotherapy this month. Both dad and daughter are on their own journey this August but together the whole way!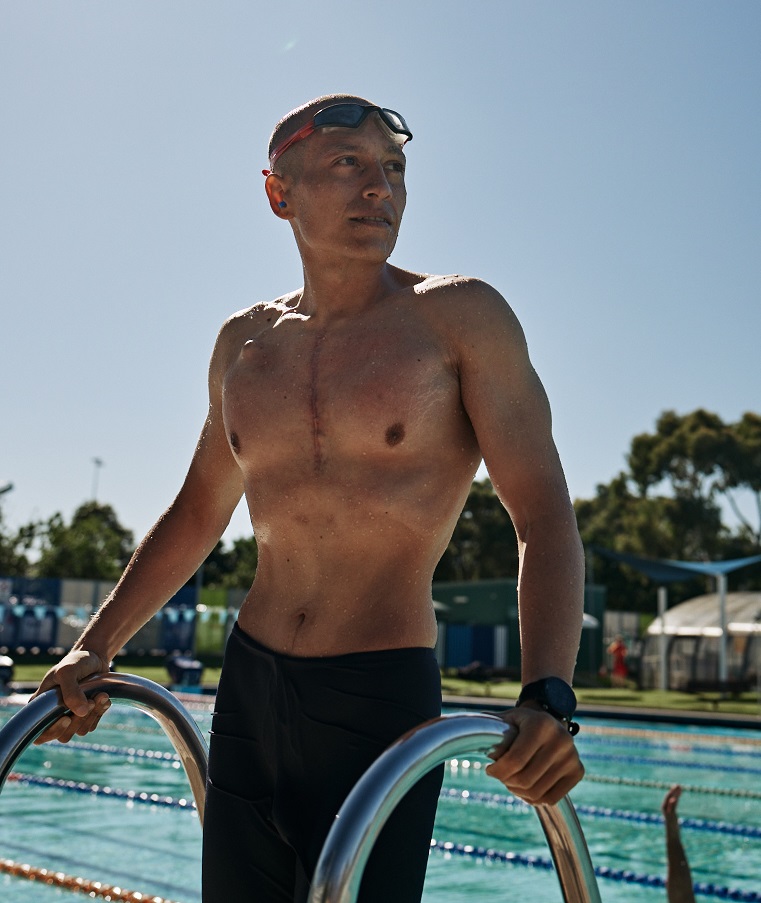 Meet Kai
Kai, from Bali, a long way away from home and Chris O'Brien Lifehouse.
Kai was a fit young man, living abroad and at the peak of his career - throwing multi day music festivals for thousands of people.
A few days before his 26th birthday, he went for a run and something didn't feel right. A chest X-ray turned into a CT scan and a 15cm tumour was revealed in his chest.
Year 1 was chemotherapy treatment for nonseminoma cancer (testicular). It was thought to be successful but a few months later his cancer returned and transformed into rhabdomyosarcoma. Year 2 was more chemotherapy and a surgery to remove the tumour in his chest.
Kai has a parlayzed diaphragm and is still receiving maintenance chemotherapy but he pledges to Go The Distance because he believes "geography shouldn't limit access to life-saving treatment"